昆蟲觀察 Insect observations
我於我台中市東勢區山上的大自然觀察 My nature observations here in my hills of Dongshi, Taichung (Taizhong), Taiwan
不畏人之大蠅 Big fly that does not fear people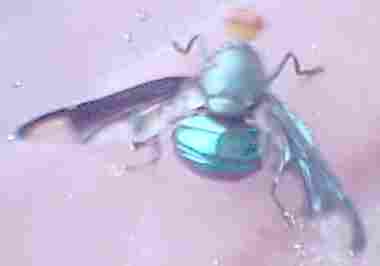 人可近此蠅無幾公分, 故於都市應早已滅。 舌橘色亦大又一直搖。 翅圖似蝙蝠俠設計。 我一年遇之僅一二次。 蠅頭至尾長約三公分。
I could get centimeters away from this big fly (about 3 cm. head to tail) who does not fear people. I assume in cities you will never see it as it would have long been swatted into oblivion. It has a large orange tongue that it is constantly waving around. It has batman-designed wing coloring. I only run into this fly a couple times a year.
More photos: 白屁股 white butt, 舌 tongue, from 45 deg.
感謝 Thanks "Young, Chen" YoungC at CarnegieMuseums.Org for getting me started with Pyrgotidae. 進一步比對得名: Further comparisons on the net reveal it is: Loxonevra perilampoides or decora or ... (Platystomatidae.)
每晨金龜出飛之時刻 Moment of dawn of the flying of "June" bugs
四五月每天天亮, 黃豔﹝?﹞金龜大量同時出飛, 於(標準)日出之前十八分鐘。 In April to May, every dawn the [Mimela testaceoviridis Blanchard, ?] bugs all come out at once to fly, about 18 minutes before (standard) sunrise.
其他 Etc.
My 昆蟲 Insects YouTube 播放清單 playlist.
---
積丹尼 Dan Jacobson
Last modified: 2016-09-07 01:39:35 +0800